Bay Area Scanner Recordings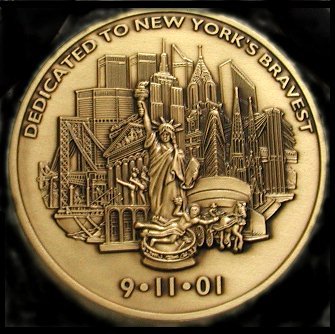 Nice little chase by CHP in Contra Costa County

Here is the audio I recorded last night of the search for the perps
Police seek robbers who shot cop in face
EAST PALO ALTO -- Three SWAT teams swarmed an East Palo Alto neighborhood early Saturday morning hunting for two of three men wanted after a Mountain View police officer was shot in the face Friday night.
The officer was shot as he pursued the three men on a wild car chase up Central Avenue after they robbed a Carl's Jr. and the Bay Food Mart at 209 and 235 East Middlefield Road in Mountain View. Despite his wound, the officer continued to pursue the robbers.
The officer's gunshot wound was not thought to be life-threatening and he was being treated at Stanford Medical Center, police said.
The name of the wounded officer was not released Friday.
The three men, identified as white by police, continued firing at police as they drove through Mountain View and caused an accident at San Antonio and Middlefield roads.
The officer's car died during the chase on Central Avenue after bullets hit it.
The gunmen fled onto Highway 101 and exited at University Avenue in East Palo Alto. They crashed the Isuzu Rodeo they were driving at University Avenue and Donahoe Street.
The man in custody Friday night called police on a cell phone and said he wanted to surrender.
Authorities said it was unclear whether the armed men were wanted in connection with a spree of bank robberies over the past month and a Brinks heist in San Mateo Friday morning.
One of the gunmen was wearing a ski mask, police said.
Mountain View police called the California Highway Patrol for help at 9:56 p.m. Friday after the shooting.


Here is some of the intial traffic between the vessel and USCG
Man Arrested as Search Continues for Man Overboard Sunday, 27-Oct-2002 10:40AM
The San Francisco Police has arrested a man on suspicion of murder this morning after he fought, and then threw, a man over the railing of a "booze cruise'' ship and into the dark waters off Hunter's Point.
The chances of the swimmer's survival are getting slimmer as a U.S. Coast Guard ship continues to search nearly eight hours after responding to the initial report of a man overboard at 11:30 p.m. Saturday.
The Coast Guard has said the man can survive for nearly nine hours in the 57-degree-Fahrenheit waters, an estimate that takes into account the fact that the 30-year-old victim had a few drinks, was not wearing a life jacket, but does know how to swim.
It does not, however, take into account that the man may have been injured during the fight, according to Coast Guard Petty Officer Carl Hausner.
A Coast Guard helicopter, which arrived on the scene at midnight, stopped searching at 4 a.m. but will return at first light, said Hausner. The original boat on the scene, a 41-foot utility boat, has meanwhile been replaced by the Tern, an 87-foot Coast Guard cutter.
"Hopefully this guy made it,'' said police Inspector Sergio Chin, who is leading the investigation. He also had the difficult job of escorting the victim's sobbing girlfriend off the boat and into a waiting patrol car.
Chin is releasing little information but has already interviewed the suspect, a 27-year-old man who eyewitnesses say is bald, around six feet tall and wearing a gray jacket and blue jeans. "He looked very agro,'' meaning aggressive, said one observer.
The police found several witnesses to the fight after meticulously interviewing and writing down contact information for all 270 people aboard the Royal Princess, a cruise ship that departed from Pier 43-1/2 at the Fisherman's Wharf earlier that night.
"Witnesses say the suspect threw the victim overboard,'' confirmed Chin, who would not say how the fight started or whether the victim was already injured when he hit the water.
Chin did say, however, that no one saw the victim after he was thrown overboard, even though the captain of the Royal Princess circled the area several times.
The fight happened during an alleged "booze cruise,'' a nighttime boat tour that attracts young partygoers with easy-access bars and multiple dance floors. No one was available for comment at the Red and White Fleet, the family-owned business that owns the Royal Princess and has been running ferries and tourist boats in the Bay since 1892.
The Coast Guard says it will search until at least noon today and that its search area is expanding with time and moving south along with the currents.
The man may be difficult to spot in the water because he was wearing jeans and a gray shirt, according to the Coast Guard's Hausner. "It's very difficult to spot a person at night with dark clothes.''

High-Speed Police Pursuit Ends in Drainage Ditch
The California Highway Patrol reports that a man was sent to the hospital this morning after leading police in a 100-mph-plus pursuit that ended in a drainage ditch near the Antioch Bridge. Police first attempted to pull over the four-door Honda at 1:07 a.m. today after it sped through a stop sign in Pittsburg, police say. Police chased the car as it roared down state Highway 4 at speeds over 100 mph and eventually headed across the San Joaquin River on the Antioch Bridge. Shortly after reaching the other side of the bridge, however, the car crashed through a fence and overturned in a drainage ditch near the Sherman Island Road exit, police say. The driver apparently tried to flee but ended up flailing around in the murky waters of a drainage ditch until police pulled him out, dried him off and sent him to the hospital for unspecified injuries. Police were unable to confirm reports that the vehicle was stolen. RossWehner0421a09/23/02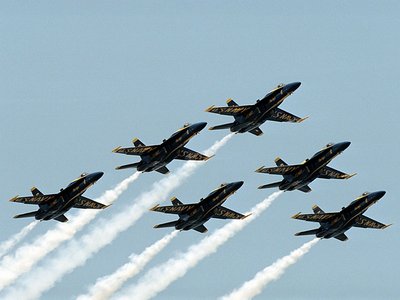 Here is some audio of the Blue Angels when they were in the Bay area

Audio of 911 call to SFPD dispatch from CHP and then audio from event prior to fatal TC
Police Release Dispatch Tape from Deadly Crash
Officer Jon Cook died in a car accident last week.
Police have just released the haunting sounds on tape of the panic following last week's fatal crash between two San Francisco police cruisers.
"We've got officers down! We've got officers down! 17th and Dolores," an officer says frantically. "We've just been in a major 7-19."
Two squad cars were chasing after a domestic assault suspect when they collided at the intersection of 17th St. and Dolores in San Francisco. Officer Jon Cook, 38, died in the accident. Three other officers were injured.
Prosecutors have not ruled out charging the assault suspect, Monte Haney, with Cook's death.

I will try and post anyCHP or other pursuit's that I happen to tape on this site in a WAV format.I am using Scanner Recorder as the program since it has VOX and will also record in format that will allow for smaller files.



This is pretty funny about booking a person with one leg :)

Nice chase in Napa into Vallejo

Nice chase by Contra Costa Sheriff's department on 4/30/02

The CHP part of the chase communications from the Blue frequency
04.22.02 SAN FRANCISCO (AP) -- A man avoiding a traffic stop led CHP officers on a chase around the Bay Area at speeds as high as 110 miles per hour this morning.
The chase started around 12:40 am in Sunnyvale, went up to San Francisco, then back through Daly City and San Jose, and finally over to San Ramon.
CHP officers bumped the fleeing car and stopped it around 2:15 this morning.
The unidentified man was then arrested. No word yet on why he fled the traffic stop for speeding.
No one was hurt in the early morning chase.


Some U2 traffic with Oakland Center
9th Reconnaissance Wing professionals providing America the world's finest high-altitude reconnaissance. . . ANYTIME, ANYWHERE The 9th Reconnaissance Wing is responsible for providing national and theater command authorities with timely, reliable, high-quality, high-altitude reconnaissance products. To accomplish this mission, the wing is equipped with the nationís fleet of U-2 reconnaissance aircraft and associated support equipment. The wing also maintains a high state of readiness in its combat support and combat service support forces for potential deployment in response to theater contingencies. Organized along the lines of the Air Forceís objective wing structure, the 9th Reconnaissance Wing is composed of more than 3,300 personnel in four groups at Beale and at four overseas operating locations

Good chase in Solano County last night. Nice speeds of 110 MPH and some assistance by CHP helicopter.

Click here to listen

Patient information of a transport by CALSTAR

Patient being transported after shooting in Vallejo on 5/20 via REACH

If you are interested in obtaining a copy of all the audio files from the 9/11 incident on a cd rom just contact me and I will send one to you.
e-mail me at bayscan@attbi.com
Radio Traffic Documents Final Moments in WTC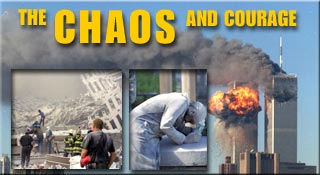 There is still the audio I recorded from 9/11/01 on Newsday site if you want to listen to it there go to this URL:
http://www.newsday.com/news/local/newyork/ny-tapesgallery.htmlstory
There is also the audio I recorded that day posted at Firehouse.com
Click on this link to go to Firehouse.com where my files are posted
Please note that these files can be disturbing to listen to...

Initial communications from the NYFD during WTC incident
Initial call. Collapse of first tower.

Initial communication from NYPD Emergency Services and NYFD
Here are the links for the story on the above recording::
Newsday Article with sound files
Excerpts of 911 Log on Sept. 11 Reveal Unfolding Terror The Associated Press Published: Oct 1, 2001
NEW YORK (AP) - The 911 entries started at 8:47 a.m. with the words "BLDG EXPLOSION." Incident No. 0727 quickly unfolded as a diary of terror, as call after desperate call rolled in from the World Trade Center. Excerpts from the log of the dispatcher for the Fire Department's Emergency Management Service were published Sunday in the Daily News.
The entries were published much as they appeared when they flashed on the computer screen Sept. 11. The time of each call is noted, and messages are abbreviated. MC stands for male caller, FC for female caller, STS for "states."
08:50:12 MC STS PLANE JUST FLEW INTO WORL TRADE CENTER--POSS COMMERCIAL AIRPLANE.
Then the calls began pouring in from One World Trade Center.
08:56:44 MC STS HE IS ON THE 87 FLR-STS 4 PERSON THERE W HIM-STS THERE IS FIRE.
08:57:26 PEOPLE SCREAMING IN BACKGROUND-STS CANNOT BREATHE--POSS SMOKE COMING THRU DOOR-FLR 103...TRAPPED.
09:04:50 MC-STS 103 FLR-CAN'T GET OUT-FIRE ON FLR...PEOPLE GETTING SICK
A report from the police aviation unit came in, saying people were falling from the building.
The dimensions of the disaster suddenly grew.
09:07:51 SECOND PLANE HIT THE SECOND BUILDING ... UNK EXTENT OF INJ.
09:09:14 MC STATES 2WTC--PEOPLE ARE JUMPING OUT OF THE SIDE OF A LRG HOLE--POSS NO ONE CATCHING THEM.
09:02:18 MC STS ON 106 FLR ABOUT 100 PEOPLE IN ROOM-NEED DIRECTIONS ON HOW TO STAY ALIVE.
09:17:39 MC STS ON 105 FLR...STAIRS COLLAPSE
09:36:33 FC STS THEY ARE STUCK THEY ARE STUCK IN THE ELEVATOR...STS THEY ARE DYING.
09:47:15 FC STS 2 WORLD TRADE CENTER--FLR105--STS FLOOR UNDERNEATH HER--COLLAPSE.
09:49:21 1 WORLD TRADE CTR...20 PEOPLE ON THE TOP WAVING...THEY ARE ALIVE PLEASE SEND HELP.
10:00:34 WORLD TRADE CENTER HAS COLLAPSED.
Suddenly all calls from that building ended. Calls from the north tower continued.
10:12:35 MC STS HE CAN BARELY BREATHE...105TH FLR
The calls ended at 10:33 a.m. as abruptly as they had begun, with a horrifying final note: "ENTIRE TOWER DOWN."
AP-ES-10-01-01 1650EDT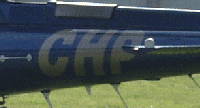 Here is the final part of the communications by SWAT from the stand off
Man kills grandson then self March 31, 2002 --
The Windsor Police Department said a 71-year-old man allegedly shot and killed his teenage grandson today before apparently turning the gun on himself following a four-hour standoff at a mobile home park. Carl Donahoe of Windsor killed himself just before 4 p.m., said Windsor Police Chief David Sederholm.
Sonoma County Sheriff's Department Lt. Matt McCaffrey said Donahoe called a county dispatcher at about 11:57 a.m. to report that he had shot and killed his grandson and that he was planning on taking his own life.
Neighbors said Donahoe lived in the double-wide mobile home with his wife, Pat, and their 18-year-old grandson, Jesse. Pat Donahoe was reportedly playing bingo in Hopland in Mendocino County when the shooting occurred, McCaffrey said.
Law enforcement officers responded to the scene at the Royal Mobile Manor mobile home park at 6555 Old Redwood Highway, and took up positions around the mobile home while making intermittent contact with Donahoe. Meanwhile, residents of the neighborhood were forced to evacuate.
Chief Sederholm said authorities last spoke with Donahoe at about 3:40 p.m. and that he was clearly distraught. Donahoe asked for more time so that he could calm down, Sederholm said, and told authorities to call him back in about 10 minutes.
Just minutes before 4 p.m., however, authorities heard a single gunshot, Sederholm said. A Special Weapons and Tactics team that had taken up positions around the home lobbed two flash-bang diversionary devices inside the mobile home and rushed in through the main entrance.
The home then caught fire and firefighters responded to the scene to douse the blaze.
Sederholm said that Donahoe killed himself. Both his body and the corpse of his grandson remain in the burned mobile home.
The motive for the shooting remains under investigation.
Neighbor Charlotte Duffy described the older man as "really friendly, friendly as he could be."
"He's just as nice as pie," she said.
Duffy said that when she heard a single gunshot around noon, she thought it was a firecracker.
Neighbor Sean Barry, 19, said that both grandfather and grandson worked at Wal-Mart until Jesse quit a couple of months ago. He said Donahoe worked as a door greeter at the store and that Jesse used to work as a stockperson and cart collector.
McCaffrey said the Sheriff's Department has never been called to the suspect's home in past.


Nice chase in San Mateo County on 3/05

Sunday morning OES Radio test on 154.220-10:00 AM PST


Communications received on 271.000 AM in the Bay area


Some interesting surveilance communications in the Bay area..
I dont want to list the frequency this took place on for security reasons.


Short chase in Santa Clara but vehicle rolls over


Shooting in Vallejo on 1/21 then MAJOR crowd problems


This is the San Jose PD part of the chase

Nice chase in the Bay area tonight, 01/16/02-This is the Second Part with the CHP
100-Mile Chase To Catch Stolen Car Email story to a friend (Livermore-AP) -- Highway patrol officers got a scenic tour of the San Francisco Bay area last night before finally arresting a man suspected in the theft of an SUV. San Jose police say the 100-mile chase began when a stakeout team watching two stolen cars parked at a motel moved in. One man was captured immediately. A second man jumped into a new Ford Explorer and took off.
Police officers began chasing the vehicle -- then turned the chase over to the CHP when the car headed north on Highway 101. The driver crossed the Bay Bridge and headed east on Interstate 580. He finally was stopped just past Livermore.
Jesse Watson of Morgan Hill was booked early today for investigation of evading arrest and possession of a stolen vehicle.

911 Services Linda Wertheimer talks with Cameron Smith, communications manager for the San Jose Police Department in California, about the calls the department has been handling from people reporting suspicious packages. (3:30)

This is the BOL that went over the radio for this suspect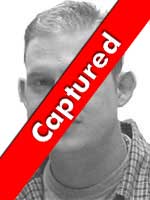 Every year the San Mateo Sheriff's office does this funny BOL for Christmas, this is the first part

Here is the second part

Here is the final part of the transmission

Radio traffic from the CHP on the scene of a Jumper on the Golden Gate Bridge the other day

Nice chase from Redding PD on 11/21/01

Audio from United Flight 93 before crash on 9/11/01
The part of the communications which is hard to understand is the highjacker when he thought he was speaking on the aircrafts intercom system but was stating "This is the captain speaking, we would like you to all remain seated, there is a bomb onboard and we are returning to the airport" but he was transmitting over the frequency
There was a lot of attention drawn to the Golden Gate Bridge after Govenor Davis released information that a threat was made against it. There are National Guard in addition to the CHP are now stationed at the bridge 24/7.

Today, for the first time, jurors heard the 911 tapes from the Branch Davidian compound the day of the government's initial raid on the religious sect. The government was trying to serve an arrest warrant for David Koresh on firearms charges. The raid ended in the deaths of four federal agents and six members of Koresh's group. NPR's Wade Goodwyn has the story. (4:15)
.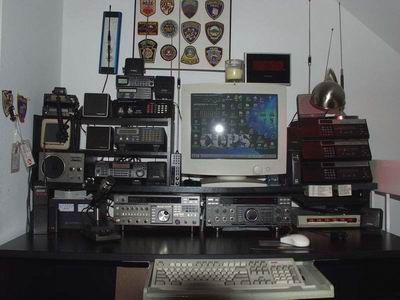 I thought I would post a picture of my set up here, click in it for a larger version.

CHP observed one minute of radio silence in memory of those lost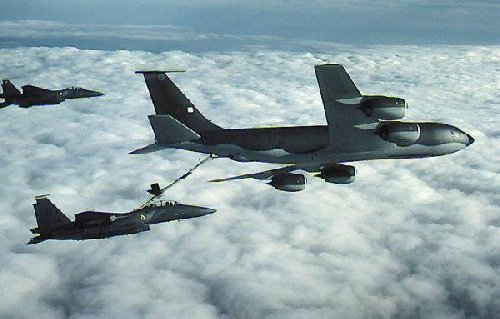 There were F15's watching over the skys here all along the California coast since the incident in New York City.

Additional Military communications recorded in the Bay area

Additional Military Communications recorded on 09/12/01evening

Some Communications received on 282.600 AM on 09/12/01
There is a good amount of activity being received on 282.600 AM due to the recent events in New York City. During this recording you will also heard them give out some other good frequencies to monitor.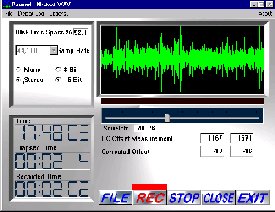 Clickhere to get Scanner Recorder, the software I use to record my files

Recordings of Georgia Executions
Stanley Execution Listen to a description of the July 12, 1984 execution of Ivon Ray Stanley in Georgia.
http://abcnews.go.com/sections/us/popoff/DailyNews/010502executions_audio_popoff/index.html

Interesting audio of officer using taser on suspect, listen for her sreaming in the background

Communications from major accident in Vallejo on 08/20/01
Major accident that occured on 08/20/01. The press does not have anything posted about it yet but they had to bring in 4 choppers for transport and had at least one fatality. Ill post some images when I get them. The communications starts off with the Vallejo PD then I switch to the fire frequency. I also put the radio on CALCORD when one of the choppers was having trouble landing through the low clouds.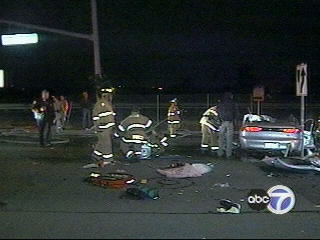 Some cummincations between the Coast Guard Chopper and Station Golden Gate
Unmanned Boat Found Drifting Near Alameda, No Passengers Found In Search BCN6 -SEARCH
The U.S. Coast Guard reports that a search for missing persons near an 18-foot boat, which was found drifting south of the former Alameda U.S. Naval Air Station on Saturday, will restart this morning. According to a spokesman, the Coast Guard has not yet received any reports of anyone missing in connection to the boat found at around 8:50 p.m. Saturday, but crews plan to scour the area again today.
Dateline: Sun Aug 5 05:11:34 PDT 2001

I cant understand why there was activity on the old SFPD low band today 07/27/01

Nice CHP chase on June 10th, this guy was going about 115 MPH!!!!

This is something from the Goveners Office of Emergency Service I dont want to hear anything soon!!

Another nice chase sent to me I love the canine barking in the background

Vessel sinking on June 8th

A weird BOL for a San Francisco Police Officer

Great chase by Contra Costa County Sheriff's Department

Great chase by Redding PD sent my Mike, failure to yeild and then wrong way

Rescueof body in San Francisco Bay 04/29/01

Thisis a very funny 911 call regarding a Taco, yes that's right I said Taco...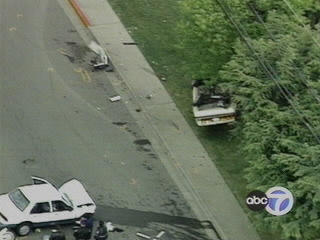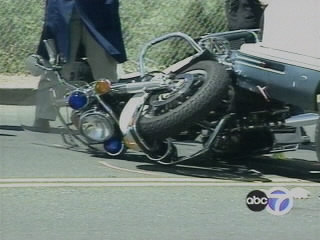 Nicechase in Vallejo on 04/11/01
Vallejo Officer Reportedly Shot in High Speed Pursuit 2001-04-11
(KCBS) ­ An officer and suspect have apparently been shot duringa high speed pursuit in Vallejo.
KCBS listener Robert Patel saw it happen. He told KCBS anchor RebeccaCorral that the chase started somewhere south of Vallejo. Patel said thesuspect may have been going more than 80 miles per hour along eastboundInterstate 80, when he exited onto Admiral Callaghan Lane in Vallejo.Patelsaid, once the suspect exited, he hit a parked car. Both cars flipped over.Thesuspect then reportedly got out of his vehicle and shot an officer. Patelsaid another officer fired at the suspect, hitting him in the head. Patelsaid the suspect was transported to Sutter Medical Center. The officeris being treated on the scene.No word yet on the condition of the suspect.The officerís wounds are not believed to be life threatening.Admiral CallaghanLane is currently closed between Redwood and Tennessee Streets.

CHPair unit catching speeders in Marin
Clickhere to view video and hear 911 tapes
The dramatic tapes show the speeding truck as it crashed into the southsteps of the capitol building and burst into flames.The highway patrolalso released 911 tapes of frantic calls made to and from dispatchers thatnight.CHP personnel inside the Capitol can be heard calling for assistanceand ordering evacuations.The driver of the big rig has been positivelyidentified as a mentally ill former prison inmate.
Watch The Video, Hear The Tapes The Sacramento County coroner's officehas notified the wife of 37-year-old Michael Bowers that he was the driverwhose charred remains were pulled from the wreckage.Police have determinedthat Bowers was acting alone.He was not killed instantly, as had been assumed.Thecoroner's office says that he did not die of a massive head injury or othertrauma.Medical examiners still are trying to determine whether he was killedin the inferno that followed Tuesday's crash.

Clickhere to listen to this interesting recording
Here is a very interesting recording I came across of the NationalWarning System's system during the 1989 quake.
NATIONAL WARNING SYSTEM TRANSCRIPT FROM 5:04 P.M.: October 17, 1989
The National Warning System (NAWAS) connects the emergency servicesheadquarters of the 50 states to FEMA's Mt. Weather, and various othermilitary and government facilities. It was designed and maintained to alertthe states to a nuclear attack. It is also used during major disasters,as heard in this five-minute clip of the NAWAS recording. (Requires RealAudio)

Nicelittle chase and foot bail in Solano County

Audiofrom Alaska 261 crash
Here is an audio file of the communications from Alaska flight 261 justbefore it crashed into the Pacifc ocean, its amazing to me how the pilotstill maintained his composure during this event.
Use this linkto listen to this chilling audio
North Hollywood Bank Robbery & Shootout
February 28, 1997
Listen to the Police Radio Broadcasts from the incident
Here is a time-compressed recording of the North Hollywood radio frequencythat morning...quiet air time has been eliminated. It runs about 8 minutes.It begins when patrol officers in unit 15A83, who had been flagged downby a citizen, called in a "possible 211 (robbery) in progress."Detective unit 15W73 goes "Code 6" (arrives) at the front ofthe bank almost immediately, and 15L40, a patrol sergeant, also arrivesand broadcasts that the suspects are armed with AK-47 assault rifles. (Thisrecording differs somewhat from the "9-1-1 magazine" transcript,which was taken from tapes of several frequencies during the incident)

SomeUS Customs communications

AdditionalUS Customs communications

Nicejob by Star 1 in Contra Costa County finding a perp


Nicechase in SF

Secondpart of recording
Pair Wanted for Murder Caught After S.F. Chase Gunfire-filled pursuitduring evening rush
A stripper and her boyfriend suspected in killings in two states werecaptured in San Francisco yesterday after trading gunfire with police ina rush-hour chase across the city.
`'They were all over the place. It was a Wild West shootout with thecops,'' said police Inspector Sherman Ackerson.
The 15-minute chase ended on the Embarcadero just north of Pacific BellPark, with 22-year-old Joshua Maxwell and 21-year-old Tessie McFarland,both of Indianapolis, surrounded by more than 20 officers. McFarland wasshot in the neck during the chase and was reported to be in stable conditionlast night at San Francisco General Hospital.
The two were trapped after running red lights, driving the wrong wayup streets and shooting at police, who shot back. In all, dozens of roundswere were fired as the pair weaved through crowded streets in a stolenpickup truck.
``I saw a bullet hit the cop's windshield,'' said witness Lovick Bouphaphah,19, adding that the fleeing driver narrowly missed bystanders as he fledthe police cruisers. ``They were running red lights, and they almost hitabout five cars.''
FLEEING DRIVER `SMILING'
The driver of the truck, he said, appeared to be enjoying himself. ``Hewas smiling. He looked like he wasn't concerned at all that the cops werechasing him.''
No bystanders were hurt. Officer Jesus Pena was hit in the eyes by flyingglass when a bullet shattered his car window. He was treated at St. FrancisMemorial Hospital and released.
The pursuit began at 4:39 p.m. when police on patrol near the Hall ofJustice at Eighth and Bryant streets saw a Chevrolet Silverado pickup truckrun a red light.
The new gold-colored pickup turned out to have been stolen from a sheriff'ssergeant who was found bound and shot in the back of the head last weekin San Antonio, Texas.
The driver of the truck sped away, starting a chase that zigzagged throughthe South of Market area and the Mission District, with the fleeing suspectsat one point zooming the wrong way on Seventh Street.
The truck made its way back to the Hall of Justice, where it clippedthe building as it went by.
``He obviously didn't know where he was going,'' said Lt. Judie Pursellof the homicide unit.
Mark Brecke, 34, said he was coming out of a bank at Fourth and Brannanstreets when he saw the pickup go by with two dozen police cars behind,the truck's female occupant reloading a gun.
``This is obviously not a red-light runner at lunch time,'` he said.
The pair eventually were cornered on the Embarcadero near Second Street.Police blocked off streets until just before 8 p.m. while they picked upshell casings that littered the South of Market area.
SOUGHT FOR QUESTIONING
The chase came the same day that authorities in San Antonio said Maxwelland McFarland were being sought for questioning in the slaying of BexarCounty Sheriff's Sgt. Rudy Lopes.
Lopes was 42 and had worked in the county jail for 15 years. His wifereported him missing last week. His body was found in a drainage ditchbehind a mall in San Antonio. His truck and two of his guns were missing.
McFarland and Maxwell had already been charged in Indiana with murder,criminal confinement, arson and theft in the death of 45-year- old RobbyBott, a Federal Express employee who lived in Brooklyn, Ind., south ofIndianapolis. The car in which the two were believed to be traveling wasfound abandoned in San Antonio.
MET ON CHAT LINE
Police Capt. Joel Rush of Speedway, a suburb of Indianapolis, said Bottmay have met his killers through a telephone chat line advertised in publicationssent to local strip clubs.
McFarland danced at Brad's Brass Flamingo, an Indianapolis club. Policesaid Maxwell had been released from prison in January after serving timefor burglary.
``He has never had a job as far as we can tell,'' Rush said. ``He'swhat you call a sponge -- he found women that would just support him.''
McFarland had worked at the club for about three months, said the generalmanager, Don Noe.
``I think they just went crazy,'' Noe said. ``She was never really aproblem when she worked for me. She was like a wild child -- she likedto go out and party, but she always obeyed my rules.
``I think she was led on by him,'' Noe said. ``He just looked like thetype that would do something, but not that bad.''
Rush said Maxwell and McFarland met Bott on Sept. 11, the night beforehe was killed.
The couple came to Bott's home, then went with him to a house in Speedwaywhere Maxwell and McFarland had been staying, police said.
Rush said Bott's home was ransacked and he was forced to accompany thepair on a spending spree, buying jewelry, clothes, lamps and even wastebaskets.
The next morning, authorities found his body stuffed in the trunk ofhis burning car. He had been shot and strangled.
``It was a robbery that went bad,'' Rush said. ``They were trying totake this guy for something, and something must have gone bad.
``They basically set him up,'' Rush said.
Police said they had no idea what led McFarland and Maxwell to headfor San Francisco.
`'They are not world travelers,'' Rush said.
Before fleeing the state, McFarland left her 2-year-old son with hermother in Indianapolis, even signing over legal custody of the boy to herthe day Bott's body was found.
Rush welcomed the capture of the couple. ``I think it's great,'' hesaid. ``I wish we could have gotten to them sooner.''
Chronicle staff writer Tom Zoellner contributed to this report.

CHPdispatcher on the Statewide frequency with an open mike :)

CHPair working on speeders and also telling a very funny joke

CHPChopper assiting in catching speeders in Marin

Adispatcher on the CHP frequency warning the intruder of the penalties
Pirate Hits Albany, Richmond Police Radios Man taunts dispatchers,calls in phony crime reports
A radio pirate has broadened his invasion of police airwaves, expandingfrom the Berkeley police channel to include Albany, Richmond and CaliforniaHighway Patrol frequencies and using profanity to berate and taunt dispatchers.
So far, authorities have been stymied in their attempts to stop theillegal transmissions, which began earlier this month with false reportsof crimes and are now increasing in vitriol with obscenity-laced tiradesat dispatchers.
``Before, he was just putting out these calls, but now he's really usingthe radio to go off,'' said Berkeley Police Lt. Russell Lopes.
At 9 p.m. Tuesday, a man on the main Berkeley police channel reporteda 10-71, the police code for a shooting, providing a location using streetsthat do not intersect, Lopes said.
A dispatcher recognized the voice from previous incidents and beganreading off a prepared script demanding that he stop using the channelimmediately. The rebuke, first read by dispatchers after a series of breachesby the same man on December 14, only provoked an angry retort by the man.
``B-- can't even read it right,'' he said when the dispatcher falteredat one point.
When the dispatcher warned him that his transmissions were being recordedand passed on to the Federal Communications Commission for possible prosecutionby the U.S. attorney's office, he retorted defiantly: ``Let them recordit.''
When the dispatcher finished, the man waited a few seconds and thensaid, ``What do all that mean? How many years am I facing, I want to know.''
The dispatcher directed officers to go to a secondary police channel.The man said, ``Well, I'll go to channel 2, too.'' He did not, however.There were no further interruptions that night.
The man similarly used obscenities to taunt CHP dispatchers earlierTuesday when he invaded frequencies used by officers in San Francisco andOakland, said Caryl Wilson, a supervisor at the CHP's communications centerin Vallejo.
Wilson said the incidents were mostly nuisances. But officers usinglights and sirens to get to a perceived emergency ``run a risk of endangeringother traffic,'' she said.
``We all take our jobs very seriously,'' Wilson said. ``We want to beproviding the best public service we can. We hate to see risks taken unnecessarilyfor the public, for officers and for ourselves.''
Wilson said, however, that the more the man gets on the air, the greaterthe chance he will be identified with the help of the FCC.
``If he gives them enough, they'll track him,'' Wilson said.
On December 20, the man got on the Berkeley channel and reported an11-99, the police code for an officer needs help. When a dispatcher readthe warning, he said, ``Screw you, b--'' and ``If I get stopped, I'll smokehim,'' apparently threatening harm to police.
The man has also come on the air in Berkeley on at least six other occasionsbeginning on December 12.
Authorities have also reported similar intrusions by the man in Albanyand Richmond.
Police say the occurrences are rare but that anyone with a fair knowledgeof how radios operate could easily penetrate the ultrahigh frequenciesused by many police agencies and the very high frequencies used by theCHP.
©1999 San Francisco Chronicle Page A21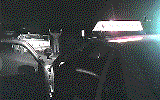 My first Scanner Recordings page


Take a little tour of my radio set up here



| | |
| --- | --- |
| | Click here to send me mail... |